Hire a DM, Christophor – 40 yrs of TTRPGs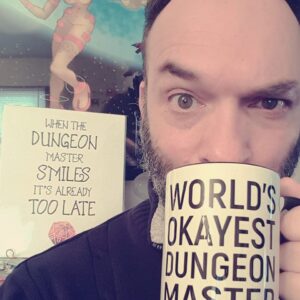 Looking hire a DM? Someone to run a game session, adventure or longer-term campaign? DM Christophor has been playing TTRPGs for 40 years. Currently, he is accepting bookings for D&D 5e, DCC, MCC, Dark Trails, FFG Star Wars games (and perhaps a few others). Hire a Dm cost is $15 per person per session, minimum 3 players.
Christophor has been professionally teaching over 40 kids to play TTRPGs, including the "world's most popular RPG" for two years. Additionally, he is an active RPG writer and designer. He has also been a DM for hire for several years. With the Covid-19 pandemic, he has taken his Hire a DM action online to expand his reach. He is also part of several vibrant online TTRPG communities. You can also find him Twitter as ChristophorRick where he talks TTRPGs, politics and just about anything else.
2 Old Guys Games recently Kickstarted its first adventure, Sinking the Stercorarius and received 459% funding during that campaign. Fulfillment has completed and new adventures are in the works now. 2OG Games is now working on a series of shorter adventures for online play. Find us on Twitter at 2OGGames and on Facebook at 2 Old Guys Games.
[booking startmonth='2020-6′]

Check out this video of him running the Salty Funnel, Pirates Edition! This session was the world premiere of the Pirates add-on for Sinking the Stercorarius and we were fortunate to have a great cast of players including Defenders of Kobold's Chuck and Jake, comics writer (and more!) Jim Zub, TTRPG writer Matt Corley and TTRPG writer and artist Randall Hampton.
Warning: Adult Language, lots of it.
He also plays many games as often as he can including this Dark Trails adventure:
Warning: Adult Language, lots of it, probably
And Goblin Quest:
Warning: Adult Language, lots of it, probably (do you sense a trend in these late night shenanigans?)