Description
Get the limited run, first printing of the Cutievil Creature Club sticker sheet
Meet Dr. Nope, Harmhog and Klepto Kat!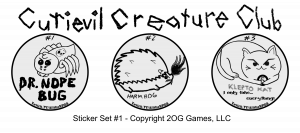 Dr. Nope is the evil genius that organized the club after freeing himself from the confines of…Pethood!
Harmhog is the fire-breathing enforcer for the CCC. He is fiercely loyal to Dr. Nope, and also just fierce.
Klepto Kat keeps kontrol of the CCC finances by stealing everything!
Only logged in customers who have purchased this product may leave a review.