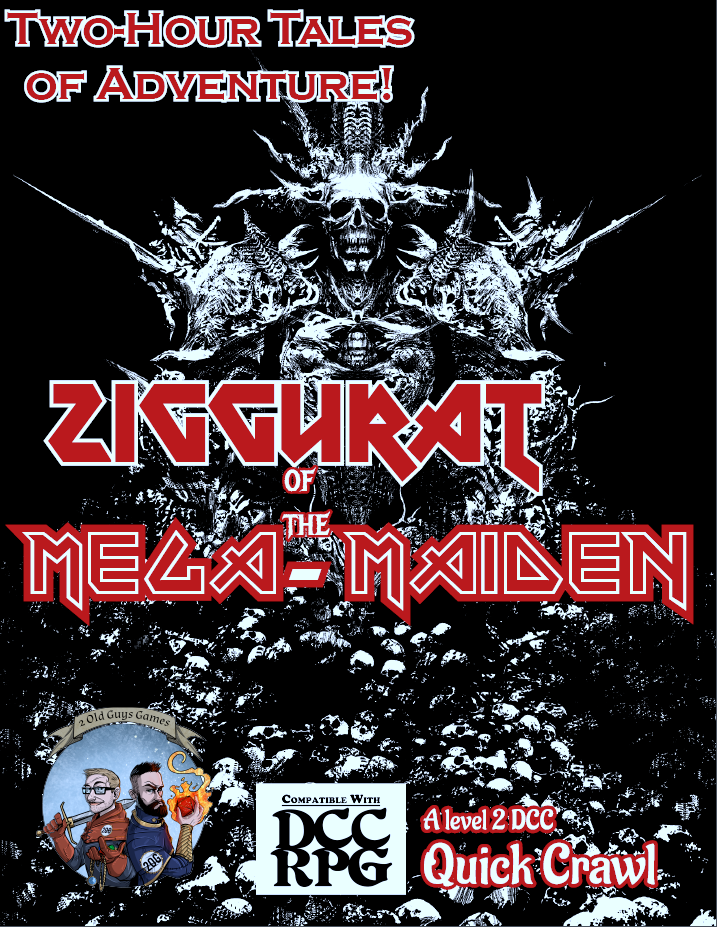 Ziggurat of the Mega-Maiden – New Product Alert
The first Two-Hour Tale from 2 Old Guys Games is the DCC Quick Crawl, Ziggurat of the Mega-Maiden!
Quick Crawls are perfect for in-person or online play and include maps and tokens to facilitate that. Additionally, the Two-Hour Tales work well online as we have found that people begin to fade or lose focus after around 2.5-3 hours. These DCC Quick Crawls, as we call them, will be PDFs only.
The Two-Hour Tales run about 2,500-3,000 words. Each will have at least one map, several tokens and a complete three-part adventure. All NPCs will have a Strategy section so Judges get insight into how they act and fight. We will break out all new spells, creatures and items into reference cards. This will help the Judge run the Two-Hour Tales by giving them all the info they need for each specific encounter in the Quick Crawl.
Ziggurat of the Mega-Maiden
Perfect for 6 DCC Level 2 PCs, Challenging for 4-5 DCC Level 2 PCs. Deadly for anything less, but still fun. Perhaps a mob of villagers don't want the world destroyed and this turns into a funnel with lots and lots of dead villagers in a mighty struggle to save all of existence!
Join the fun and record stats on your game, then fill out our stat tracker for the adventure! The data will not be used for anything but fun stat-tracking to see how many players per group, how many PC deaths, what classes and levels were used, etc. Stats can even be reported anonymously.